Gabriela Téllez, Costa Rica, 1984.
Gabriela completed her Bachelor's Degree in Fine Arts from the University of Costa Rica and earned her Photography Specialization at the National Technical University. In 2010, she moved to France to take part in the Arles School of Photography residency.Afterward, she achieved her Contemporary Art in Creation and Studies Master's Degree getting Art and Existence Specialization at the University of Lille III.
Her photographic vision is a hybrid between "story telling" documentary photography and contemporary artistic image. The topics that she's more interested in the daily life contexts wherever she's located, analyzing through her images the profuse elements that determine the quality of life in a specific location.
Gabriela is a member of the Colectivo Nómada, an alternative visual communication platform created in Costa Rica more than a decade ago. She is also part of the agency Light Motiv based in the North of France.
In 2020, World Press Photo Organization chose her as one of the emerging talents for the 6x6 program. She currently locates in France developing interdisciplinary and cultural mediation projects.
Photo: Priscilla Mora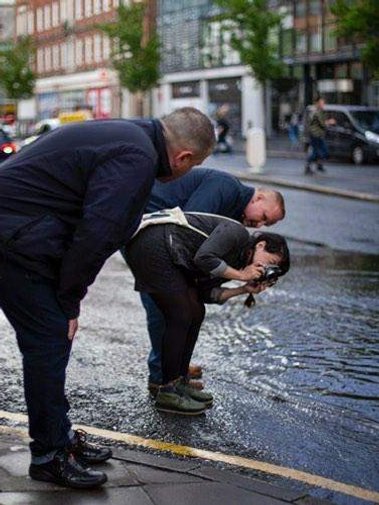 Interviews, publications and others
Art Residencies,Awards & Additional Experience
2021 Photographer selected in the screenings of the festival Les NuitsPhotographiques du Pierrevert, France.
2020 6x6 Talent from North and Central America from the global program of theWord Press Photo
2019 Tutor chosen for the "20 Photographers Atitlán" Project: A Creation and Education Laboratory to rethink the creativity and the educational processes around the Latin American images.
2019 Second place granted in the POYLatam contest, "The future of the cities"category.
2019 Art Residency sponsored by the Health & Culture Program of theContemporary Art Regional Bureau -DRAC- (1 month) - Douai Hospital Center, France
2017 Workshop: Photography Documentary Edition, directed by Rodrigo Abd (4 days) - Centro Cultural Español, El Salvador
2017 Art Residency: "El artista yel archivo" for the Laberinto Project, directed by Muriel Hasbun (10 days) -El Salvador
2016 Workshop: directed by Susan Meiselas. Photography Center (4 days) - El Salvador
2010 – 2011 Art Residency in theEcole Nationale Supérieure de la Photographie - Arles, France
2009 Workshop: "Hasta los límites de la Fotografía", directed by Antoine d'Agatha (1 week) - CostaRica
2008 First Place granted in the Annual Contest: "Ambiente Universitario de Artes Visuales" - Universidad deCosta Rica - Costa Rica
2008 Nomination: I CentralAmerican Photography Biennial, organized by the French Institute AllianceFrançaise (FIAF) - Costa Rica
2007 Art-Paint Residency (2months) - Escuela Superior de Arte "La Espora". Managua, Nicaragua
Work Experience
2020- Guest artist at Lycée Pierre Forest,Maubeuge (France), in the EROA program,artistic and cultural education in partnership with the Rectorate of theAcademy of Lille DAAC.
2017 – 2018 Design Teacher & CoursesCoordinator - Parque la Libertad Foundation. San José, Costa Rica.
2016 – 2018 Photography Teacher - UniversidadTécnica Nacional. Alajuela, Costa Rica.
2014 – 2016 Press Photographer - La NaciónNewspaper. San José, Costa Rica.
2013 "Communication with Images forLille's Mental Health" Project Photographer - Lille, France.
2010 Art Workshop Responsible for ElderlyPsychiatric Ill People - National Psychiatric Hospital, Costa Rica.
2006-2010 La República Newspaper Photographer -Costa Rica
2006-2009 EFE News Agency (Spain) Photographer- Costa Rica
Exhibitions
2022 " A l'égard d'un regard" (Collective)- Cinema L'Univers, Lille, Hauts -de- France.
2022 "Processus decréation visuelle de l'œuvre chorégraphique Kuxtú". Théâtre de l'OiseauxMouche, Roubaix, Hauts -de- France.

2019 "Toponimias" (Colectivo Nómada)- Centro Cultural Figueres Ferrer, SanJosé, Costa Rica
2016 "Barrios de San José" (Collective) - Plaza de La Cultura. SanJosé, Costa Rica
2016 "La No Bienal" (Collective) - Galería Croma, Costa Rica
2014 "El lente, testimonio de vida" Press photography (Collective) - EspacioCultural Carmen Naranjo, Costa Rica
2014 "Imágenes/Espejo" Festival Internacional de Artes, Costa Rica (NomadCollective) - Galería Nacional, Costa Rica
2011 "París, de lugares y de gente" (Collective) - Alianza Francesa, Paris
2010 "TEOR/ética-Introductions" (Collective) - TEOR/ética, Costa Rica
2008 "PECA" Central American Emergent Artists (Collective) -TEOR/ética, CostaRica & Central America
2008 "Mascaradas" (Individual) - Casa de la Cultura Barva de Heredia, CostaRica
2005 "Visiones Inéditas" (Individual) - Costa Rica
Studies Completed
2011– 2013 Master's Degree in Creation, Contemporary Art & ExistenceSpecialist – Université Charles de Gaulle, Lille 3, France
2003– 2010 Bachelor's Degree in Fine Arts (BFA) & Painting Specialist -Universidad de Costa Rica, Costa Rica
2004– 2006 Diploma in Photography - Colegio Universitario de Alajuela, CostaRica
2000– 2002 Diploma Architectural Design – Colegio Técnico Profesional, Costa Rica